Guide To Winter Pond Keeping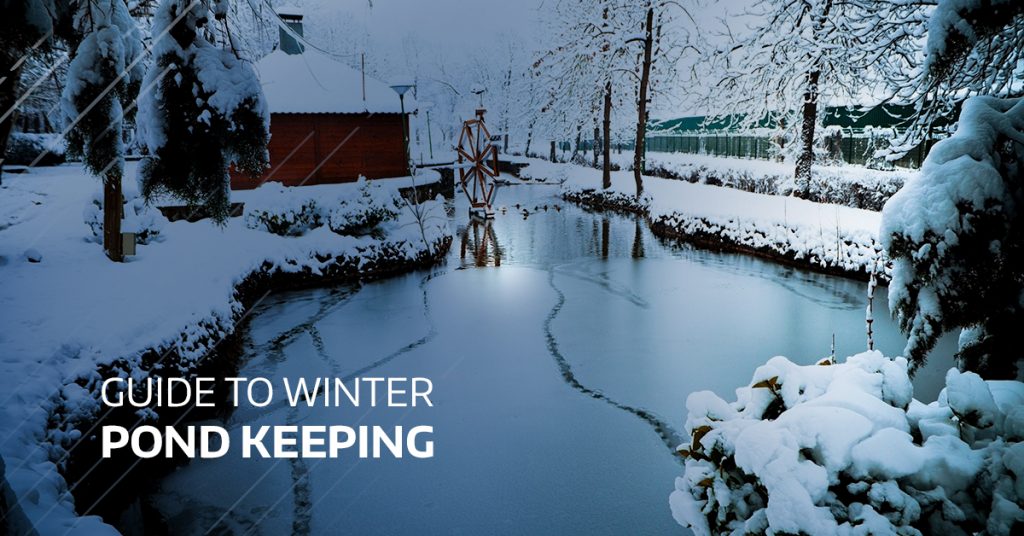 Just because the chilly weather is here (depending on where you live) does not mean that you have to close your pond or water garden. In fact, there are a handful of benefits to keeping your pond running during the winter months, like the formation of gorgeous ice sculptures that collect on a waterfall or stream, turning your backyard into a winter wonderland. Although ponds and water gardens can be breathtaking in the winter it is possible that the buildup of ice can act as dams, diverting water out of the pond. And, if you live in the North and Midwest regions, you have to be cautious of ice buildup as it is much more common in these areas.
It is best practice to check on the water features and the water level of a pond or water garden during the winter. If ice starts to build up and you notice the water level decreasing, it may be time to turn off the pump until the spring. However, if you decide that you want to experience the beauty of winter ponds, and don't mind the extra care and maintenance, your biggest concern is ensuring that there is enough water for the pumps to operate.
Keeping your pond or water garden running during the winter is possible, but it does have its challenges. If you're a pond owner who is considering keeping your pond open throughout the winter, we put together a brief guide that will answer common questions when it comes to ponds, water gardens and the cold winter months.
---
Can Ponds Even Run Through The Winter?
This is a question we are often asked and there are two answers, yes and no. During the winter season, the usual water supply options are not available due to inefficiency. Automatic water fill valves and outdoor water spigots should be turned off. Leaving them run throughout the course of the winter season will increase the risk of the pipes freezing and cracking. Without the use of these valves and spigots, water garden and pond owners who choose to keep their pond running will have to find an alternate source of water to help replenish their pond. Using a hose is a quick and simple way to supply water to your pond. That said, it is normal for pond owners to periodically add water to their pond during the winter season.
---
Will Waterfalls And Other Water Features Freeze?
The size of the pump plays a pretty important role in a water features ability to operate effectively during the colder months. For example, if your water garden or pond has a pump that kicks out at least 2,000 GPH it can easily be used throughout the winter as long as it is continuously running. Because the pump is continuously moving water, it will help keep a hole in the ice that is near water features and in front of the circulation system.
However, if you live in a climate that has repeated freezing temperatures it could lead to excessive ice build up. Having too much ice can cause the entire water feature to operate improperly. If you notice that the flow of water into the circulation system is inefficient at keeping up with the pump due to ice, it may be time to shut the system down. Once the ice breaks down and melts, restoring the normal water flow, the system can be turned back on.
---
Will Pipes and Filters Crack During The Winter?
One of the biggest concerns when it comes to keeping a pond open during the winter is if the cold will cause the pipes and filters to crack. Most open type pond filters are made out of polyethylene and are constructed to bend and bow along with the freezing and thawing that winter brings. Pressure filters should be winterized and drained if full freezing takes place in your area. The pipes also will not crack if you choose to keep the pump running throughout the winter as there will still be a flow of water moving through the pipe. And, moving water does not freeze. Pipes will only crack in the winter if stationary water is left in the pipe and allowed to freeze.
---

Most ponds and water garden owners choose to shut down their system in the bitter winter months to avoid the maintenance and care it requires. However, keeping them open in the winter brings worthy aesthetics to your yard. We encourage pond owners not be afraid to keep their system running as long as possible, getting the most out of them!
When you need supplies to keep your pond running during the chilly winter months, from aeration kits to pond solutions and treatments, be sure to shop the wide selection of pond and water garden supplies at Castle Aquatics! Our professionals can answer your questions about pond care and maintenance, and are ready to help you find the products your pond needs to stay healthy and running properly. For more information, contact Castle Aquatics or find the nearest dealer.