Part 2: How To Improve Your Outdoor Living Space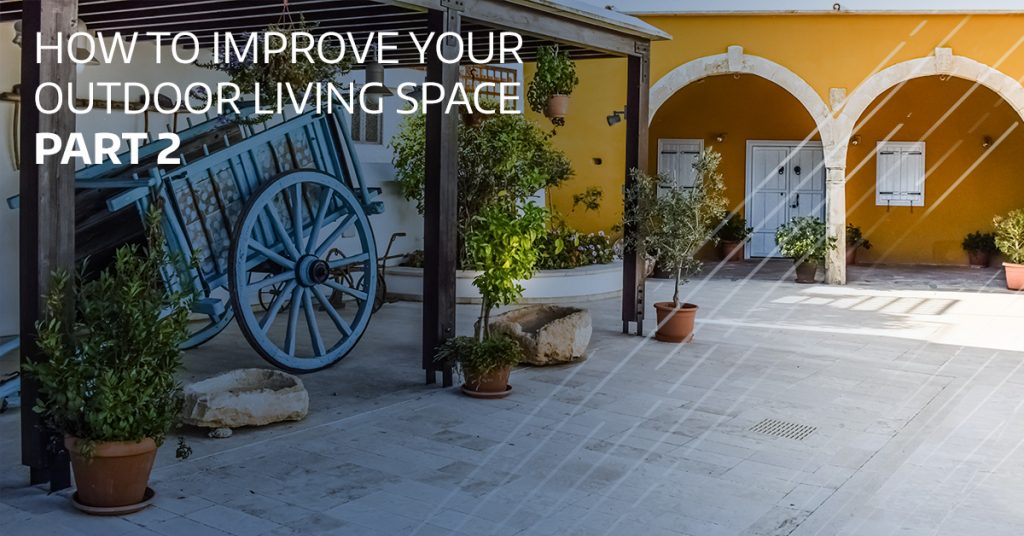 Your outdoor living space should be just as much of a place of solace as your indoor living space. If you don't enjoy spending time in your yard, you may need some help in determining what you can do to make your outdoor living space a more enjoyable and comfortable space. In a previous blog, we began a list of the ways in which you can improve your outdoor living space. Today, we will finish our list of ways that you can transform your yard into an outdoor sanctuary, and we will give you a few more ideas on how you can make your garden pond the main feature of your yard. For all of your garden pond needs, including your pond filtration system, lighting, and more, Castle Aquatics can help.
FEATURES TO IMPROVE YOUR OUTDOOR LIVING SPACE CONTINUED
A Fire Pit – Whether you get a portable fire pit for your yard or you have a fire pit installed as a key feature in your yard, a fire pit is an excellent way to create a warm and inviting atmosphere where people will want to gather and relax.
Swings – Regardless of the kind of swing—patio swing, tire swing, hammock—even adults enjoy the many different varieties of swings, and adding one to your yard could be an enticing feature that draws you and your family and friends to the yard in order to enjoy the gentle rocking motion of a swing.
A Deck – if you'd like to really spruce up your yard, instead of having a patio or a small deck off of your home, a deck can be a large, multi-level feature that not only adds beauty to your yard if you choose a deck with a natural wood look, but it can also add to your yard's functionality by creating a more defined space to place your outdoor furniture and other outdoor features.
Lights – Aside from the light on the exterior of your home for your yard, you should also consider installing additional lights on features such as your stairs, walkways, and tables. You can even hang twinkle lights between your trees to create a magical look.
Speakers – Installing outdoor speakers can greatly improve your outdoor space by allowing you to create the atmosphere you'd like with the sound of music. Your guests will love the addition of music to your outdoor space.

HOW TO MAKE YOUR GARDEN POND YOUR YARD'S MAIN FEATURE
Once you decide to add a garden pond to your yard as one of the key features that can improve your outdoor living space, we have a few ideas on how you can place your pond in order to make it your yard's main feature. In our last blog, we already discussed features you can add to your garden pond in order to make it stand out, but you'll also need to know where to place your garden pond to really make it your yard's main feature.
If you really want your pond to stand out, you will want to place it near one of your other key features for your yard. Your garden pond shouldn't be tucked away in a corner. You can add your garden pond to the middle of your yard or even close to your patio or deck in order to be able to view the pond when you're at your outdoor table. Placing your pond in the middle of your yard or near other key features can actually add to the appeal of the pond. If your pond is placed correctly, you can add a stone walkway around it, a bridge over it, or you can even place a gazebo next to it to really maximize your ability to spend time near your pond and enjoy it as your yard's main feature.
A garden pond can be such a beautiful addition to your yard in order to create a more enjoyable space. If you combine a garden pond with some of the other features we mentioned that can help to improve your outdoor living space, you may end up spending more time outside than you do inside. For all of your garden pond needs including your pond filtration system, Castle Aquatics has the garden pond expertise you need. Shop our pond products today!