Part 2: How To Reopen Your Garden Pond This SPRING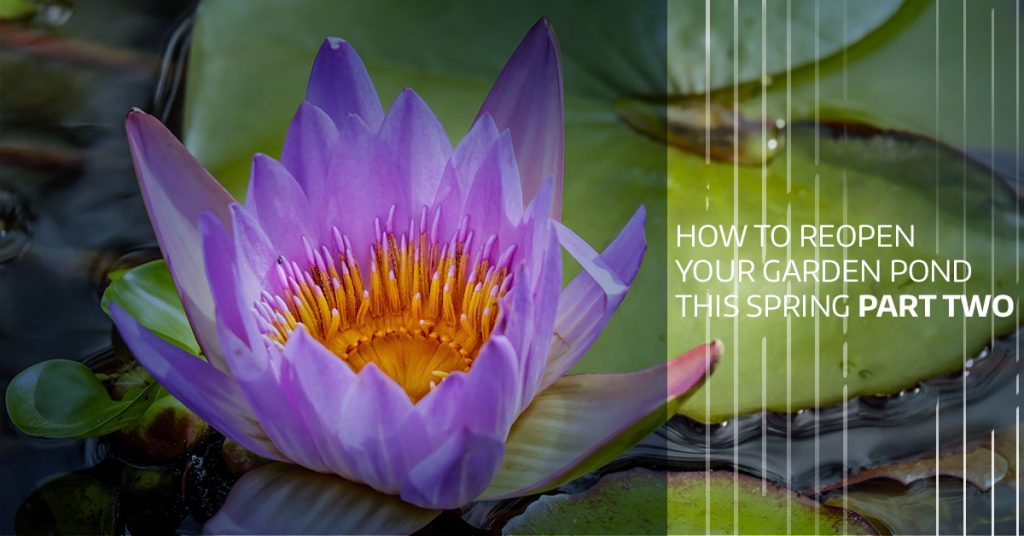 Now that the weather is changing and the temperature is rising, it's time to start thinking about getting your yard ready for the spring and summer months. If you have a garden pond in your yard, you'll want to be sure you follow the necessary steps to get your pond up and running in the best condition possible. In our previous blog, we went over the first six steps of getting your garden pond ready for spring. Today, we'd like to finish our step-by-step guide. If you should find you need any tools or products that are necessary for your pond care this spring, be sure to shop our products here at Castle Aquatics!
STEPS TO GET YOUR GARDEN POND UP AND RUNNING THIS SPRING CONTINUED
Step Seven
If you live in a climate that requires you to turn off your pond pump and filter during the winter months in order to prevent damage to the pump and filter from the cold, you'll want to reconnect your pond pump and filter now. If you did not clean your filter pads in the fall before shutting down your pond for the winter, you'll want to either clean or replace the pads. Do not clean your pads with soap or bleach. Simply rinsing the pads is best practice. If the pads are torn or worn-out, you should replace them.
Step Eight
In our last blog, we went over changing out either 25 percent of your pond's water or 100 percent of the water, depending on the debris that built up in the pond over the winter. Regardless of how much water you change out, you'll want to test the quality of the water. Both the nitrate and the ammonia levels should be at zero. If you only did a 25 percent water change, you may need to do an additional 25 percent change or change the water until the desired levels are reached. Your pond's pH levels should be between 6.5 and 8.5. You can purchase pH solutions for your pond to help control the levels. If you keep fish in your pond, you'll want to be sure that the salinity is between .1 percent and .25 percent. You can change the salinity of your pond by adding pond salt. Pond salt should be 100 percent pure salt in a large crystal form.
Step Nine
Now is the time you'll want to add a sludge reducing bacteria to your pond in order to breakdown any remaining gunk from your pond if you did not do a 100 percent water change. This solution will help to re-colonize bacteria that is beneficial for your pond.
Step Ten
If you have a UV light clarifier, which helps to prevent green water, you'll want to replace the bulb of your light and clean the clarifier. You should wait about 48 hours after you clean your pond to turn on your clarifier to ensure that the bacteria has colonized.
Step Eleven
If you don't already have protective barriers set up for your fish in your garden pond, around the edge of your pond, you'll want to install a fish tunnel or a pond cover net. It's also a good idea to add rocks and safety barriers in the pond to provide a place for fish to hide from predators that may try to get into the pond. A motion detector deterrent system may also help to scare away predators.
Step Twelve
You won't want to begin feeding your fish again until the water temperatures are at 50 degrees Fahrenheit or higher for at least a week. When water temperatures are between 50 and 65 degrees, feed the fish once per week. When the water temperature reaches 65 degrees or higher on a consistent basis, you can feed the fish every other day. You can purchase an automatic fish feeder that will make caring for your fish simple and effective.
At this point, your garden pond will be up and running for the season! For proper pond care and to keep your pond clean and healthy, be sure to get the cleaning solutions you need for pond maintenance throughout the spring and summer months. Shop our products here at PondMax & Castle Aquatics today!