What Should I Do If My Pond Freezes?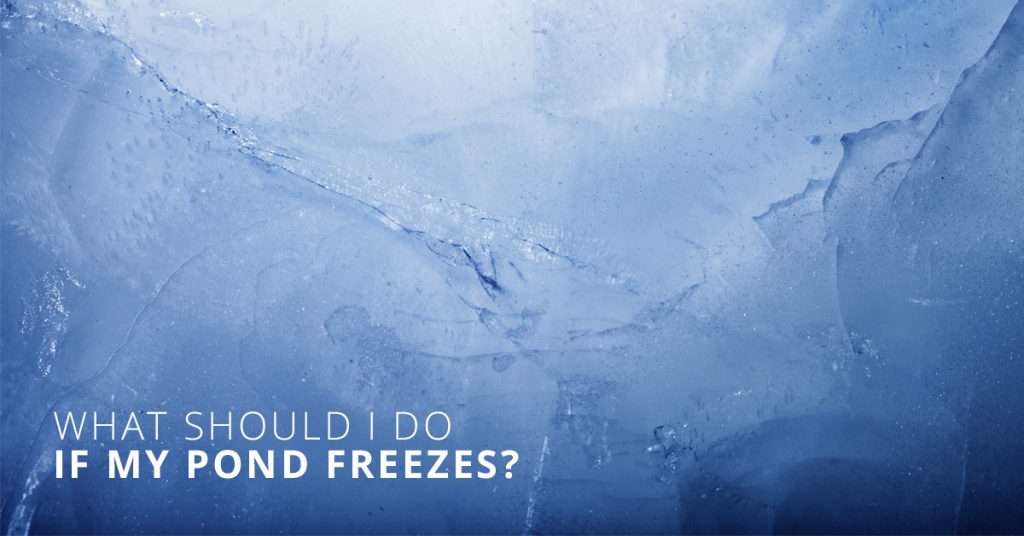 Depending on where you are in the nation, you could currently be facing the harsh cold weather of the winter season. And, if you have a koi pond or a pond with fish in it, the winter weather could end up being a big threat. When the winter comes and the water in the pond freezes, it is essential for pond and water garden owners to take the necessary steps to keep a hole in the ice to allow for a constant gas exchange during these colder months. Many pond owners will utilize aerators or de-icers to keep a hole in the iced water surface, but in certain conditions, the cold can cause these holes to potentially close and stop the exchange of gases. In addition, pond equipment like an aerator or deicer can malfunction, especially in freezing temperatures. Gas exchange is essential for getting oxygen into the water and removing the carbon dioxide out of it. Plus, gas exchange disperses the pollutants that build up in the pond's water. With an insufficient amount of gas exchange, pond fish can undergo stress and can even die. Gas exchange is essential for the health of your pond as well as the fish and plants within it.
WHAT SHOULD I DO IF MY POND FREEZES?
If you find that your pond freezes over, whatever you do, do not hit the ice to attempt to make a hole. Maybe pond owners come to find their ponds frozen and immediately worry about the health of their pond and fish. To quickly resolve the issue of insufficient gas exchange, they will try making a hole themselves. However, this can cause more damage than most people think. Banging on the frozen surface can be hazardous to the health of the fish within.
HOW DO I PREVENT MY POND FROM FREEZING?
If you are using an aerator and a deicer to maintain the hole in the ice, you shouldn't have to worry much. Having both pieces of pond equipment should be able to manage the hole in the ice during the winter season. Of course, you will want to check the aerator periodically to ensure that there is no snow covering the hole in the ice. As long as the hole in the pond's ice is free from snow or is not frozen over and the aerator is still operating properly, you can rest assured that the gases are being exchanged properly and that your fish are healthy. As the winter weather dwindles, the aerator and deicer will eventually create another hole in the ice as the temperatures rise.
Castle Aquatics Tip: If you are only using an aerator in your pond, try adding a deicer as a backup, which will add to the pond fish's well-being.
If you are using a deicer without an aerator, maintaining the howl may be a bit more difficult for you. To start, you will want to make sure that the area of the pond near the deicer is free from ice, snow, and debris and ensure that the deicer itself is working properly. The best way to make sure a deicer is functioning properly is by looking for the light that indicates the device is on and receiving power. If you don't notice the light or suspect the deicer is working improperly, you'll want to first inspect your electrical sources. If you notice that the power source is on but do not think it is working, it is likely that you need a deicer replacement.
ADDITIONAL METHODS TO TRY
If there are no holes in the ice and you suspect that the deicer is not working properly, you will have to act fast and create a hole in the ice to ensure that gases are properly exchanged. Remember, you should never bang, hit, or step on the ice to try to create a hole. If you ever find yourself in this predicament, consider trying these two methods:
METHOD #1: USE HOT WATER
If you find you pond frozen over, you'll need to create a hole. An easy way to do this is to bring hot water to a boil and slowly pour it into an area of the pond. Depending on how thick the ice is in your pond you may have to do this a couple times. Once you create a new hole in the ice, place your new deicer or aerator in the thawed area to continue the deicing process.
METHOD #2: CONSIDER A DIFFERENT TYPE OF DEICER
If your pond seems to be no match for deicers, there are other options available. You can now find deicers that can be placed on top of your frozen pond. Once turned on, the device will melt a hole in the ice's surface and continue to deice the pond once it is submerged. Not all deicers can do this, so be sure to carefully read the manufacturer's instructions before use.
The two methods above will need to be used if you deicer or aerator ever stops working and your pond freezes over. It is best to consistently check the hole in the ice at least once a week to ensure there isn't any snow covering it. By following these steps, you should be able to prevent any major pond problems from occurring this winter season.

When you need pond care products and equipment, like deicers and aerators from PondMAX, be sure to shop at Castle Aquatics! Castle Aquatics carries a wide selection of pond equipment and products, from pond pumps to pond lighting. To find great Castle Aquatics products near you, locate the nearest Castle Aquatics dealer!