Aeration for Cooler Weather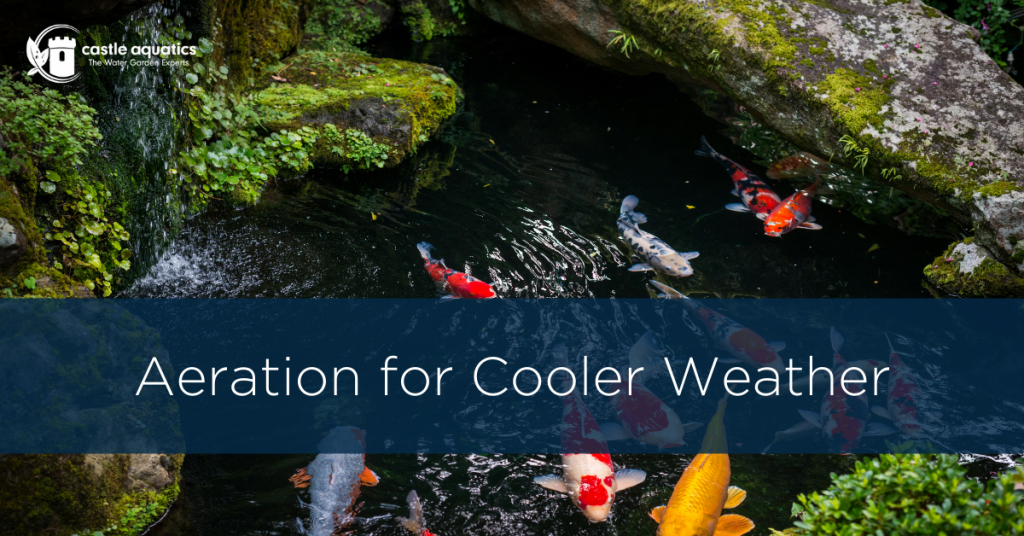 For many new pond owners, pond aeration sounds too technical, but we are here to make it simple!
So first: What is aeration and what will it benefit your water garden and fish?
We should point out, you don't "need" to aerate your pond, BUT a well designed and installed aeration system with proper air pumps will greatly enhance the oxygen levels and water circulation in your pond – which helps make sure your pond has less muck and less maintenance, which is a win-win situation.
Pond aeration simply means that you add an air pump to your pond to help oxygen levels in your pond achieve sufficient amounts. A pond air pump such as the PondMAX Complete Air Pump Kit will benefit your pond and aeration system in many different ways, especially for these summer days.
And for winter days, a pond air pump such as the Teton Aeration Kit is a must. This aeration kit provides a stabilizing effect for your pond by allowing oxygen to flow and regulate the pond's natural behaviors. This kit will move the air stone up to a shallow edge in ponds a foot deep and creates bubbles that will help to keep a small section of ice open in your pond. The circulation and bubbles created by Teton pump and air stone will also help with gas exchange since the majority of your pond may be covered in ice. The amount of oxygen and circulation from this process can really help retain the quality of your pond hence make it prepared for when Spring and Summer comes back around.
---
Improving the oxygen levels and water movement to your pond is extremely important during hot summer days or if your pond has a large population of fishes.
---
Let's dive into the list of benefits for using an aeration system:
Most air pumps and aeration kits come equipped with pond air stones, which creates small bubbles and as those bubbles rise to the surface they create water lift and circulation. This circulation will bring the bottom, low dissolved oxygen water up to the water surface where there is have more oxygen to mix with. This way, you are able to double the oxygen levels of your pond, which in turn helps fish.
Fish require a well-oxygenated environment and with the use of an air pump, you can fix stagnation-related problems like algae bloom, excess debris, surface runoff and noxious gases formation.
If your main pond pump fails, an air pumps will save the day as a emergency backup to keep your fish alive for days and weeks while you work on getting a new pump.
Useful during winter months if you turn off your main waterfall pump due to harsh winter climates, by helping to keep a small section of ice open in your pond which aids in gas exchange between the air and water if the majority of your pond is covered in ice.
---
Pond Aeration is the Secret to a Healthy Pond Environment
---
While not all ponds need aeration, having air pumps or aeration kits in the water will greatly benefit the pond environment. Increased water movement and contact with air can help turn a stagnant body of water into a thriving, healthy and well-oxygenated ecosystem.
Check out these Aeration Kits to get you started!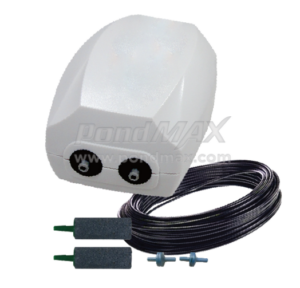 PondMax aeration kits offer the perfect solution for a quick fix to your lack of oxygen or need for an ice deterrent. They are well suited to the elements of winter and can reduce the ice build up in ponds in cold areas as well.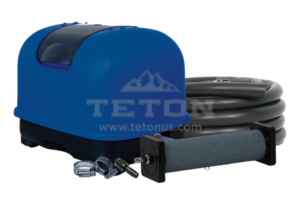 The Teton Aeration system is a very cost effective way to add oxygen to your pond. The kits come with an air pump, air tubing and air stones.  The air pump supplies air to the air stone below the water surface.
In need of some pond supplies? Check our PondMAX and Teton product lines, and when you're read to order, visit our Dealer Locator to find a store near you: castleaquatics.com/dealer
Want to become an Authorized Dealer with Castle Aquatics? Click here to learn more!