Determining The Right Water Treatment Dosage for Your Pond
Longer days and cool summer nights create beautiful moments to enjoy your koi pond or water garden. However, higher water temperatures and more sun exposure welcomes uninvited debris and other challenges that can affect your pond's water quality.
Treating pond water effectively with the right products is critically important to maintain and balance a healthy aquatic environment. This is where our PondMAX water treatment product range provides the perfect solution. PondMAX water treatment products are designed to reduce excess nutrients, fish waste, eliminate muck and remove debris – PLUS they are fast acting, easy to use, maintenance free, and safe for your fish and pond health.
But, one of the most common questions we receive during these summer days to keep ponds healthy is:
"How much water treatment should I use for my pond?"
Luckily, figuring out the right amount of water treatment doesn't have to be difficult with our expert team at the ready to help!
We have created a quick and easy PondMAX Water Treatment Dosage Guide to show you the recommended dosage for each product while helping to maintain your pond health and get rid of unwanted debris.
Take the guesswork and time-consuming maintenance tasks out of your pond care by following the dosage table below: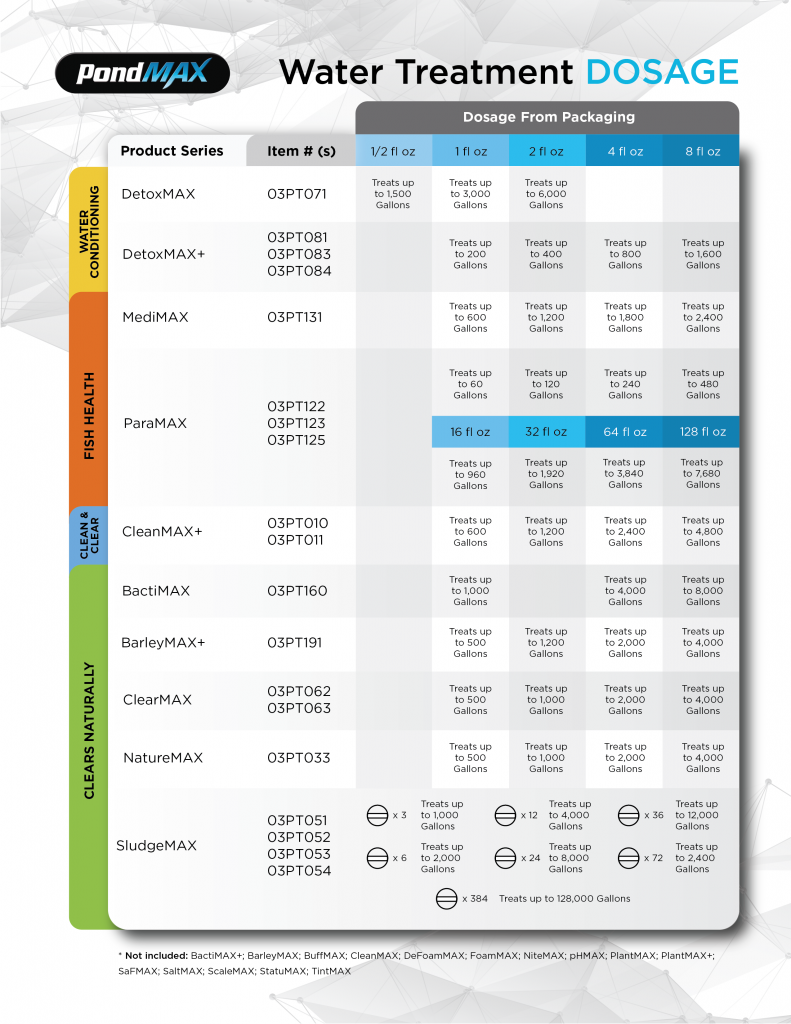 Now, creating a healthy and crystal-clear aquatic environment is as simple as 1-2-3!
Download your copy of the water treatment dosage guide here.
Want to find PondMAX water treatment products for your water garden this summer? Contact your local store to check availability.
Have questions about which water treatment products you should use? We are here to help! Contact us to speak to one of our expert product specialists.