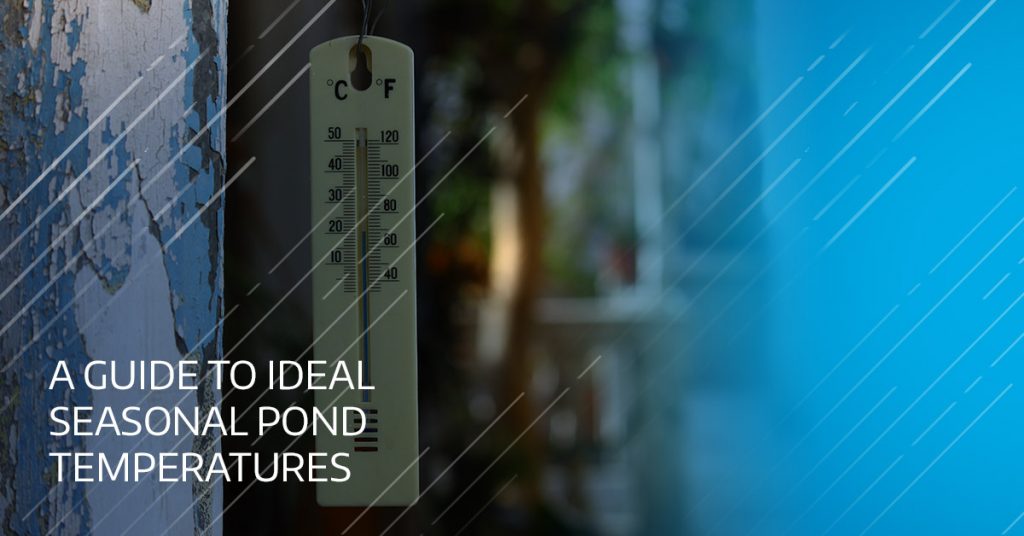 One common goal that many pond owners have is maintaining a healthy and beautiful pond all year-round. One of the main tricks to keep your pond looking great through the summer, fall, winter, and spring, is to maintain ideal seasonal temperatures. For most pond life, but especially fish, maintaining the right temperatures each season plays a huge role in their survival. Throughout each season, it is essential for pond owners to keep an eye on the temperature of the water. Compared to the air, water temperature takes a long time to heat up or cool down, so having a thermometer is vital to figure out the correct temperature for the health and safety of your pond.
In addition, the deepness or shallowness of your pond or water garden will play a role in the water temperature. When a pond is deeper, light is decreased significantly. That being said, when a pond is shallower, light from the sun is able to heat the water faster. It is for this reason that when the air is cold, the lower layers of water may still have warmth — all of which is essential to the survival of pond life during the various seasons.
Maintaining ideal seasonal temperatures can be a challenge for some pond and water garden orders. To help, we put together a seasonal guide for ideal water temperature for your pond or water garden.
Winter
Since we are currently in the winter season, we are going to start here! It is recommended that pond owners try to maintain a 40-degree water temperature in their ponds and water gardens in the winter season. Of course, depending on what climate you reside in, this may be more difficult for some owners than others. On the water temperature drops down below 40 degrees, it is important to shut off and running water features, like waterfalls or fountains. You will want to make sure that your pond is deep enough so that when the temperature falls, the fish will be able to go to the deeper, warmer parts of the pond. If you live in a colder climate where water often freezes, consider reading one of our upcoming blogs, ' What Should I Do If My Pond Freezes?'.
Spring
After winter, when the temperature starts to increase, your pond will start to warm up. During this time of year, pond water should be between 55 and 65 degrees, Fahrenheit. Spring is a stressful time for fish as they are coming out of a dormant state. This causes them to have weakened immune systems, but when the water temperature is around 65 degrees, Fahrenheit they will become stronger and cause the fish to be more active and have a better chance of survival.
Summer
The ideal temperature for pond water in the fall is around 68 to 74 degrees, Fahrenheit. When the water is around 85 degrees, Fahrenheit and above, the pond water loses most of its ability to contain dissolved oxygen. In addition, high temperatures can cause pond fish to be more active, using up a lot of oxygen. When all the oxygen is used up and no more remains, it can cause the fish to die.
Fall
Across the nation, most pond water temperatures will start falling around September and October. Around this time, the water should be around 70 degrees, Fahrenheit. As the temperatures start to get cooler in the fall, it should be a goal to have your ponds water temperature to drop to around the mid-fifties. Maintaining this temperature through the seasons will allow for pond life to properly adjust to the shifting seasons.

By following these guidelines, pond owners will be able to keep their ponds throughout each season of the year. In addition to maintaining the ideal seasonal water temperatures, part of keeping your pond healthy is having the necessary equipment and pond care products. When you are in need of pond supplies, there is no better place to get pond products online than Castle Aquatics! We carry a wide selection of some of the biggest brand names in pond care products. Whether you are looking for pond filtration products or submersible pumps, pond lighting, or pond UV clarifiers, you will be sure to find it at Castle Aquatics!
Read full article